I shot some videos with my Samsung Gear 360, what should I do to play them?
It is very simple to play any videos you have shot yourself and they should appear in the 'my videos' section. It is important to check the format they are saved in for example mp4, 3Gp, Avi and so on. It is possible that in order for the file to be playable on the device of your choosing you may need to download a converter which is software which makes the file compatible with various devices. If they are saved in your phone, check in the relevant Samsung Gear file.
Part 1. How to Make VR videos from Samsung Gear 360
The new Samsung Gear 360 is more than just a cute camera in the shape of a ball. It can make killer VR videos if you can perfect the few differences which make it a step above your standard point and shoot video camera. It has two lenses which mean that despite the fact that it can fit inside your hand, it can get multiple shots in with a very wide scope.
All you need to do to start recording is press the button which is found at the dome and you get two active lenses. The angle which is used is a 195 degree one. Once the clips are moved to a phone, the related app can then be used to stitch the images together so that a 360 degree image can be created. From there onwards the VR video can be viewed from inside the Gear headset or it can be uploaded on Facebook or other social media websites.
The stitching process is not only fast but also pretty simply and can be done via the app and also through basic converter software. You can do the required processing on your phone or on your laptop depending on what you prefer. The resolution is not too great but given the size of the camera you cannot really expect to go much higher than this. The resolution peaks at about 3840 into 1920 which is quite good for a dual lens camera even if you can sometimes see where the stitching is overlapping.
The camera can still boast of being 30 megapixels, and when only one of its lenses is used you get a 180 degree view. You get a microSD card with a mega storage capacity of up to 128 GB and this can be swapped very easily with other cards as you run out if you are on a shooting spree and are trying to get a lot of footage. Given the size of the camera, portability is not going to be a problem and nor is range. The camera can also be mounted onto a tripod so that stationary shooting can be done and if battery runs out you can swap it out although the battery that comes with the camera does generally last 24 hours.
VR videos can be challenging since they are not made with regular cameras and the directors need to pay extra emphasis to lighting and pacing since much more comes into play and is visible due to the 360 degree focus. Setting the stage for various scenes can also be difficult and most experts say that keeping the primary focus at a distance of five feet is the best way to go about it.
Part 2. How to Convert VR Videos from Samsung Gear 360 for Playing on VR Devices
The Samsung Gear can be a pretty great device when you are shooting videos but when it comes to actually watching them it can be hard to streamline all the clips together since format differences can accumulate. The simplest solution to this is to invest in a software like the UniConverter which does not cost that much and covers a wide variety of functions which can add convenience to your overall VR video watching experience.
Get the Best VR Video Converter:
Any video file can be converted into a different format depending on the device it needs to be played on. The converter deluxe has more than 150 formats to choose from.
The converter allows the user to download videos from virtually any website and make them compatible to mobile phones and VR players with ease.
The UniConverter can also be used to burn video files to DVDs.
It comes with a video editor which is great for adding subtitles, watermarks and special effects to videos.
Perfectly compatible with Windows 10/8/7/XP/Vista & macOS 10.12 Sierra, macOS 10.11 El Capitan, macOS 10.10 Yosemite, 10.9 Mavericks, 10.8 Mountain Lion and 10.7 Lion.
3,981,454 people have downloaded it
Step-by-step Guide to Convert VR Videos from Samsung Gear 360 for Playing on VR Devices
Step 1. Import Required Media Files
Open the converter program and drag the video files you want converted or simply click on the "File" tab and open all your media files to choose from.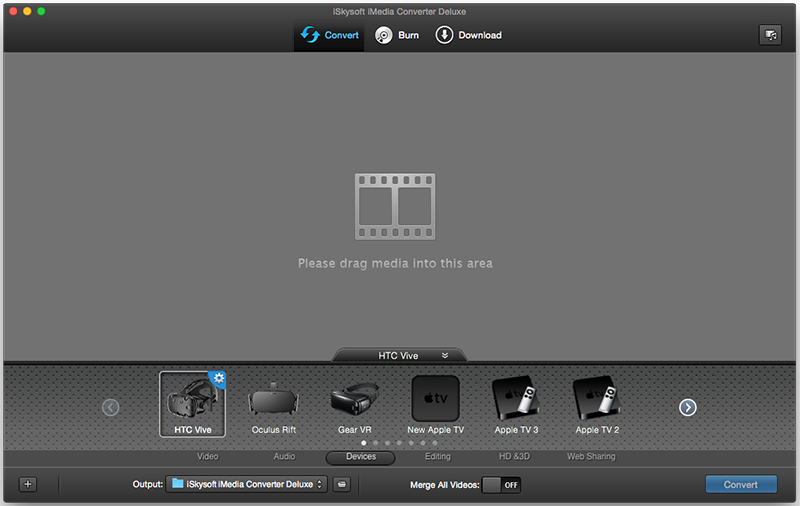 Step 2. Select Video Mode And Output Format
Next you need to choose the video mode which is for example 2D 360 degree, 3D 180 degree top\bottom, 3D 180 degree left\right, 3D 360 degree top\bottom, and 3D 360 degree left\right and it defines the angles etc that the video is shot in. Choosing the output mode is next and this is where you enter your device name such as in this case "Samsung Gear 360".
Step 3. Edit (Optional)
Editing is next such as adding watermarks, subtitles and special effects and so on. Click on the "Edit" tab on the main interface which appears as soon as you open the software.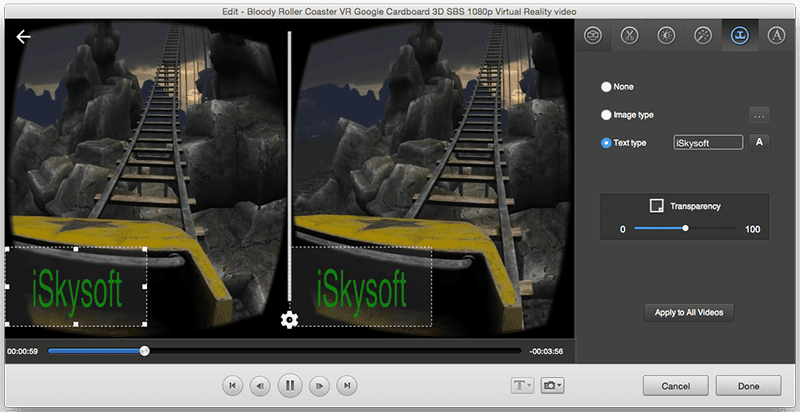 Step 4. Convert
With the new header data in place simply click "Convert" and your new VR files are ready to view on mobile as well as VR devices.