The LG 360 Cam permits you to capture 360-degree photos and 2K resolution videos easily by means of its two 13-megapixels cameras. The 360 CAM is LG's endeavor to utilize virtual reality to advance its new phone, the LG G5 but LG 360 CAM is one of the only LG G5 friends which do not need to be literally attached to the LG G5. In fact, this is a device which does not even have to be used with the G5 at all, as it can be connected to any smartphone via the app. Even more in fact, you do not actually need to use a smartphone to take pictures or shoot footage with the LG 360 CAM, although it does help. As this is an accessory, there is actually no real controlling of the device, from the device itself.
Part 1. What Should I Do for Playing VR Videos After Shooting with LG 360
In order to play VR video, you need to follow the below steps:
You require an application which is easily accessible to download from the Google Play Store for nothing and will work with any smartphone running Android 5.0 (Lollipop) or higher.
Once the app is opened and providing the 360 CAM is powered on then the app will hope to connect to the camera automatically. Once the app has connected, the initial user interface proceeds with the straightforwardness incline with three clear choices to browse, Camera, Gallery and Settings.
Heading through the camera option will be the main use of the app. Once clicked, the camera is effectively active it is here that you can then begin utilizing the 360 CAM normally. The interface is by and large very like what you may discover with a cell phone camera interface, except for having the capacity to hit the screen and take a photo. In the center you have the viewfinder while the picture capture and video record functions are positioned at the bottom.
Moving on and the gallery is just an alternate way to your taken pictures. This is additionally where you can exchange pictures from the 360 CAM to your real cell phone and without connecting the two gadgets locally. So for instance, tapping on any photo provides you with the option to download the photo remotely. If you want to rapidly share a picture that you have just clicked, then this is where this feature proves invaluable as you can immediately open the picture, download the picture and send through your different online networking channels. Unfortunately, this is the only way to share images using the 360 CAM as it does not permit sharing of images without them first being downloaded.
Part 2. How to Convert VR Videos from LG 360 for Playing on VR Devices
UniConverter is such a wonderful instrument to have in your arsenal when you will be making VR recordings and consistently converting starting with one configuration then onto the next keeping in mind the end goal to have recordings good for every one of your gadgets that you wish to watch them on.
Get the Best VR Video Converter:
The converter deluxe has been known to house over 150 formats with joining the principle database consistently.
If you get yourself persistently losing video files you can save them on the converter and copy them onto DVDS whenever it might suit you.
The converter deluxe permits you to upload directly to web-based social networking, for example, Facebook, YouTube and Vimeo.
You can edit videos (like trim videos, add subtitles/watermarks/effects, etc.) before converting to VR device compatible formats.
Perfectly compatible with Windows 10/8/7/XP/Vista & macOS 10.12 Sierra, macOS 10.11 El Capitan, macOS 10.10 Yosemite, 10.9 Mavericks, 10.8 Mountain Lion and 10.7 Lion.
3,981,454 people have downloaded it
Step-by-step Guide to Convert VR Videos from LG 360 for Playing on VR Devices
Step 1. Import your video
Converting the VR videos to a compatible format is straightforward and all you need to do is open the converter deluxe and drop the relevant files in it.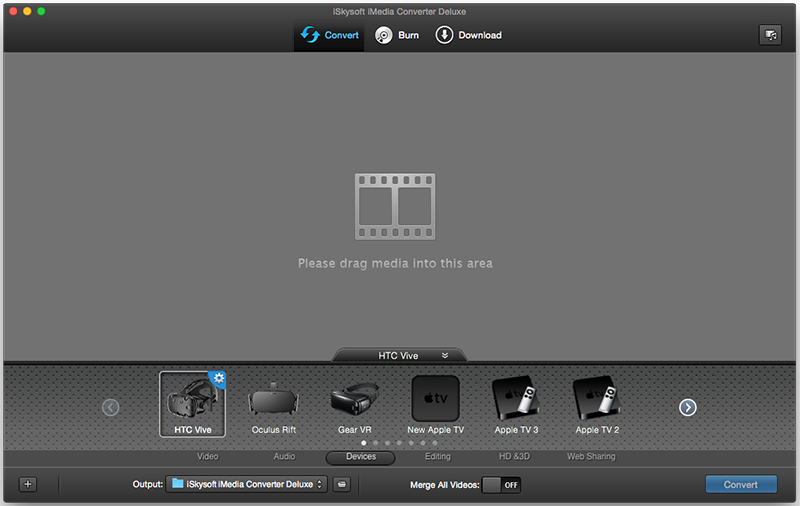 Step 2. Select the desired format
Next you need to choose the video mode which is for example 2D 360 degree, 3D 180 degree top\bottom, 3D 180 degree left\right, 3D 360 degree top\bottom, and 3D 360 degree left\right and it defines the angles etc that the video is shot in. Pick your preferred format from the "Devices" tab on the format tray.
Step 3. Convert video
Convert your clips and choose where to save them on your computer and you are ready. The process has been simplified and the software gives you the option to edit along the way and roll out any improvements you like.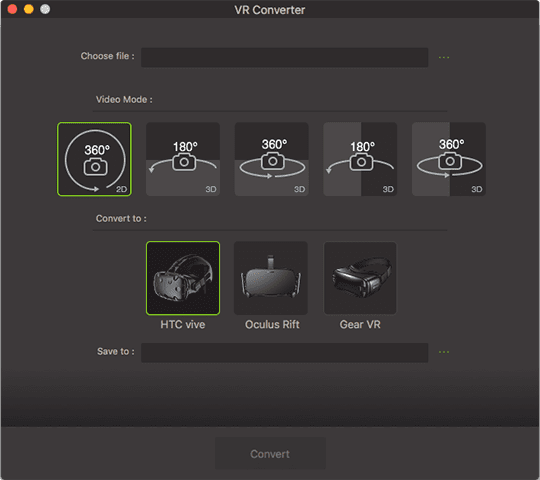 Why I Failed to Play VR Videos After Shooting with my LG 360
You failed to play VR videos after shooting with LG 360 because there is no display or no viewfinder and as its stands on its own, it is just a simple snap-and-go camera. If you are not using this with a smartphone then you can easily just press the button and a picture will be clicked and stored to the microSD card. In spite of the fact that obviously, without a viewfinder, there is no real way to see the picture you are taking either before or in the wake of taking a picture. You would have to transfer the microSD card or its contents to somewhere else before being able to view the pictures. And there is where the app plays its part which you need in order to view the pictures.