Se usi un Mac, potresti trovarti in difficoltà davanti a molti formati video semicompatibili come FLV, MKV e AVI che fanno diventare l'esperienza di godersi un film una sfida quotidiana. QuickTime, per esempio, supporta soltanto alcuni formati video come MPEG-4 e . Il problema è che esistono molti altri file video in XviD e DivX. Magari anche tu hai vecchi video in WMV che vorresti guardare. Quindi ti potresti trovare con alcun video da guardare su QuickTime, magari in formato AVI, mentre altri richiedono FLV Player o mPlayer o VideoLan Client. In questo caso puoi usare un metodo per cambiare encode ai tuoi file, convertendoli in e guardarli su QuickTime, adottando un software professionale di conversione video.
Tutorial per usare Perian per Quicktime per guardare Video in vari formati su Mac
Perian è definito come il coltellino svizzero di QuickTime o come un add-in di QuickTime. Permette a QuickTime di mettere in play molti formati video non supportati da un normalr QuickTim come WebM/VP8, MKV. Il codec di Perian codec è open-source e puoi scaricare Perian qui.
Nota Bene: I componenti di QuickTime ti permettono solo di guardare questi video su QuickTime su tuo Mac o PC, e se vuoi mettere in play formati comuni come AVI, WMV, FLV su iPod, iPad, iPhone o modificarli con iMovie ecc, dovrai usare UniConverter per Mac per convertire i video.
Guida per Installare e avviare Perian per QuickTime su Mac
Passaggio 1. Apri Perian
After downloading the Package of Perian for QuickTime, open the disk image, double click Perian.prefPane icon. It will automatically install and update all its components. Drag and drop the QuickTime components to the Library -> QuickTime folder you selected: your user's Library (which is only for you) or the top-level Library (which is for everyone on Mac).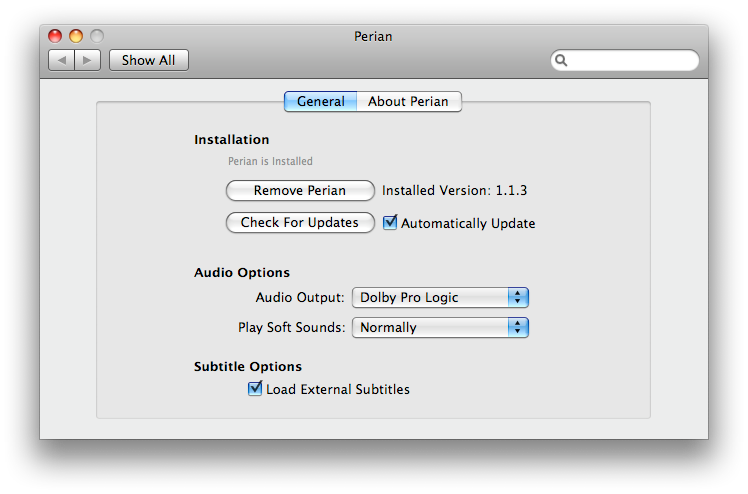 Passaggio 2. Avvia QuickTime
Dopo averlo fatto, riavvia tutti i programmi che usano QuickTime(iTunes, QuickTime Player, il tuo browser, ecc.), e poi hai finito.
Nota Bene: Puoi trascinare e spostare i componenti di QuickTime nella libreria-> cartella di QuickTime che selezioni tu: la libreria del tuo utente (se serve solo a te) o la libreria livello top (per tutti quelli che usano Mac).
Vedrai che QuickTime magicamente supporta ora molti più formati video: AVI, DivX, DivX 3.11 alpha, XviD, MS-MPEG4 v3, 3ivX, MS-MPEG4 v2, MS-MPEG4 v1, Truemotion VP6, Sorenson H.263, FLV e i formati che contengono file AVI --AC3, AAC Audio, VBR MP3, mpeg4, e h.264.
Perian per QuickTime è un'ottima applicazione per QuickTime. Ma non è la soluzione perfetta per ottenere alta qualità, visto che fornisce una qualità inferiore se comparata con il metodo di ottenere i code dalla fonte. Nonostante ciò Perian per QuickTime può essere buono e conveniente, ma non ideale per gli amanti della qualità. (Per favore nota bene che se hai Perian installato sul tuo Mac e vuoi rimuoverlo, devi cancellare i componenti di Perian andando su /Libreria/QuickTime. Altrimenti si rovineranno i codec sostituiti).