Geralmente, cada um de nós procurará arquivos de áudio/vídeo de melhor qualidade sem perda de informações e saída eficiente. Para conseguir isso, cada um de nós procurará uma aplicação com menos problemas de perda de qualidade. No entanto, é difícil escolher qual software oferecerá conversões de FLAC para mídia WAV com a melhor saída. Neste artigo, pode encontrar os recursos mais proeminentes do melhor conversor de FLAC para WAV, o UniConverter. Além disso, também lhe indicamos os passos para converter FLAC para WAV no seu Mac e PC Windows. Basicamente, o conversor de FLAC para WAV não oferece nenhuma perda de qualidade, pois o FLAC é uma compressão sem perdas, estará apenas a descompactar a informação através de qualquer aplicativo de terceiros, de modo a que a saída recebida seja exatamente a mesma da entrada de forma eficiente.
Parte 1. Top dos Conversores de 10 FLAC para WAV
#1. UniConverter
A melhor forma de converter FLAC para o formato WAV é usando o UniConverter. Este é um conversor de áudio que suporta uma variedade de formatos de arquivos de entrada e saída. Ao usar este software, poderá obter áudios de saída de alta qualidade com resultados perfeitos. Este conversor de FLAC para WAV é geralmente compatível com quase todos os tipos de sistemas operacionais e capaz de converter uma variedade de formatos de arquivos como MP3, FLAC, AU, APE, OGG, WAV e AIFF e muitos mais.
Obtenha o UniConverter - Conversor de Vídeo de FLAC para WAV
Supports more than 150 audio and video formats with improved output quality.
Converts files at a faster rate and its user interface is also very simple.
Edit files by adding subtitles, special effects and watermarks, also by adjusting brightness, saturation and contrast settings.
Capable of performing other settings such as trimming, cropping, rotating and merging.
Versatile tool which is compatible with almost all devices and can also convert any media file into any device supported format.
Convert FLAC to WAV using iSkysoft
Step 1: Add FLAC File to the Converter
Initially, upload the FLAC file by clicking "Add Files" button in the program. Alternatively, you can also upload by using drag and drop option.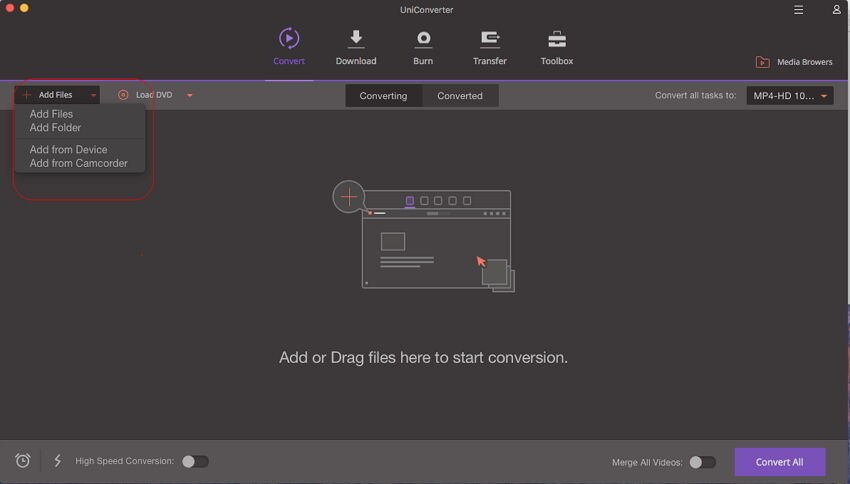 Step 2: Select WAV as Output Format
After that, go to the format tray then click "Audio" option to select "WAV" as Output format.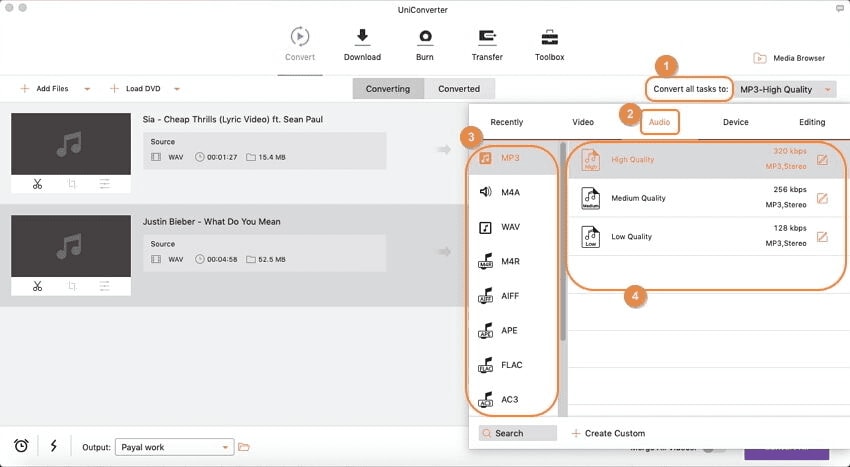 Step 3: Convert FLAC to WAV
Then, set the output location and click on "Convert" button at the lower right and then the program will immediately begin FLAC to WAV file conversion. Once conversion process is done, the desired WAV file is obtained at the selected output folder.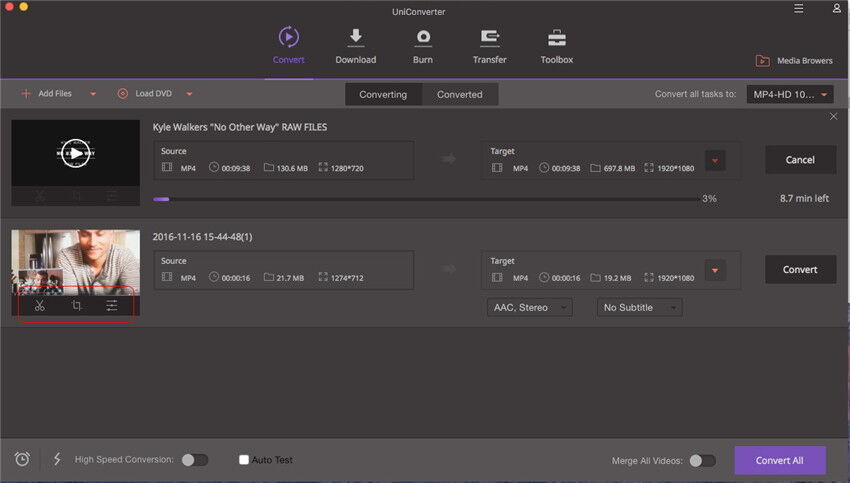 #2. Stellar Audio Video Converter
Even though Stellar is suitable for FLAC to WAV audio conversions, it supports only 7 Output formats such as MP3, MP4, WAV, AAC, WMA, OGG and FLAC.
Pros:
Extract Audio from Input Video Files such as WMV, MPG, M4V, MP4 and MOV.
Provides Live Chat Support.
Cons:
Lacks many Tools and Functions.
Supports only limited Audio/Video Formats.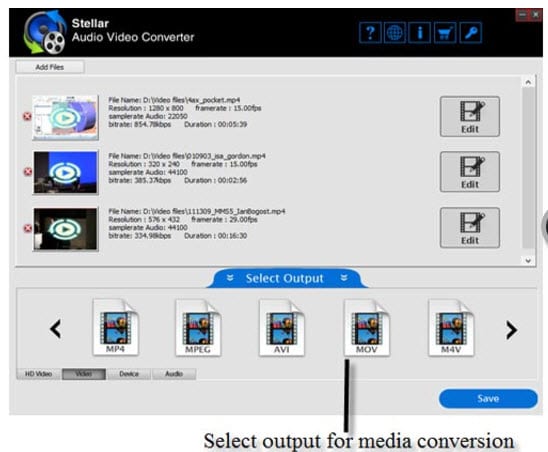 #3. Audiozilla
Audiozilla is a simple audio converter, where you just have to right-click over the any audio file in your PC to start conversion.
Pros:
Supports 20 Audio formats.
Rip CD's or Extract Audio easily.
Cons:
Slower FLAC to WAV or WAV to MP3 conversions.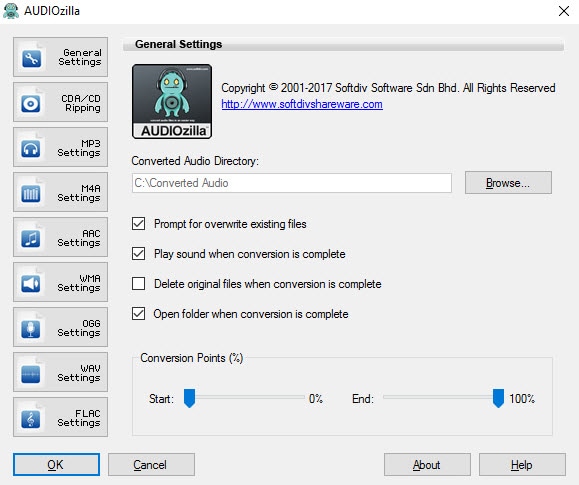 #4. Switch Sound File Converter
Switch Sound File Converter processes your file for playback on any portable device. It is popularly called as universal audio converter.
Pros:
It supports wide variety of audio formats such as WAV, MP3, FLAC, and OGG and so on.
It is one of the simplest and effective converter in the market.
Cons:
Users may struggle to handle metadata in case of lossless file conversions.
Users could incur extra cost to get the full upgraded version.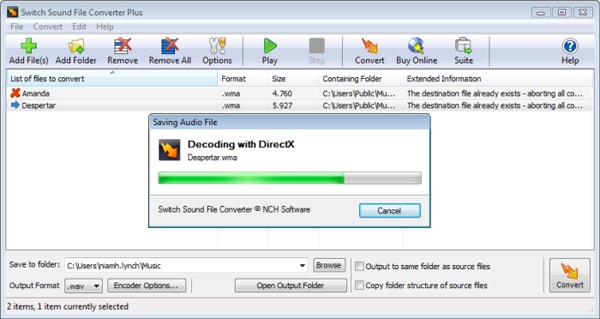 #5. SUPER
SUPER is widely known for its wide variety of audio formats. If you want to convert rare audio file to something more common you can use SUPER audio converter.
Pros:
SUPER audio converter tool is really easy to use and implement.
It is usually compatible with almost all versions of windows.
Cons:
This audio file converter tool does not provide customer support via phone or mail.
During installation, there may be some risks of spyware/adware/malware.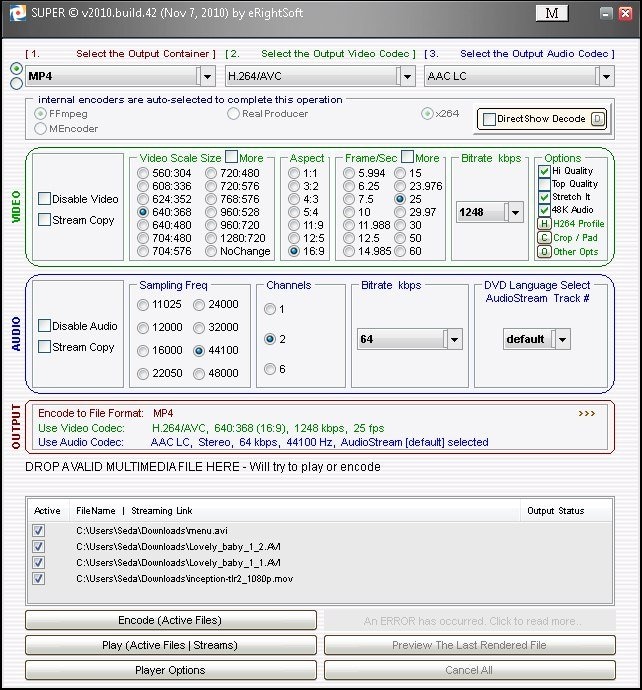 #6. Ease Audio Converter
Ease Audio Converter is best suited for recording any type of audio source/format into MP3/WAV. It is easy and flexible to use.
Pros:
Supports Audio Joiner, Converter, Cutter and Recorder.
Edit Tag information easily.
Cons:
Incapable of ripping audio to CD efficiently.
Time required for uploading a file is high in this application program.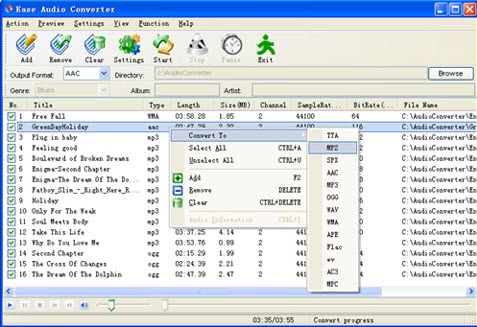 #7. Media Human Audio Converter
Media Human Audio Converter is nothing but a simple converting tool without advanced options or confusing interfaces. If you are expecting a simple online tool for conversion, then this program is recommended for simple conversions.
Pros:
Comprises of Hidden Settings.
Lack of confusing Interfaces.
Cons:
This converter tool does not let you to customize things like other conversion tools.
Some tools are completely unobtrusive unless you want to use them.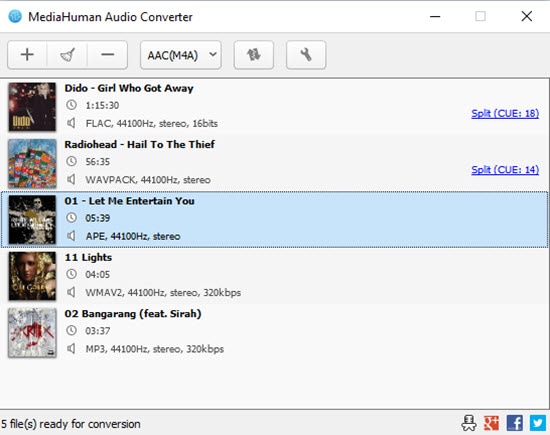 #8. Freemake Audio Converter
Freemake supports several audio formats including FLAC to WAV conversions. The additional advantage with this tool is that it can process and convert multiple files at the same time and performs multitasking as well.
Pros:
Supports processing and conversion of multiple files at a single time.
Converts local as well as online files in MP3.
Cons:
This converter tool may attempt to install other files that are unrelated to the process.
Composed of inaccurate MP3 conversions.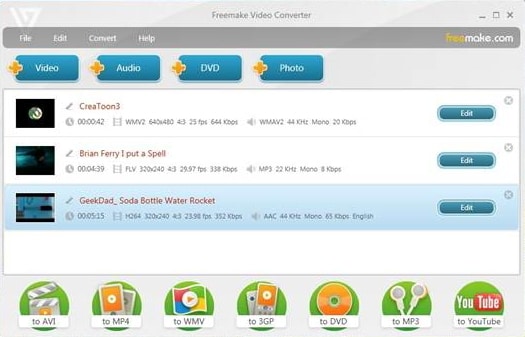 #9. Hamster Free Audio Converter
Total Audio Converter is a free audio converter, that can be installed quickly. It has a minimal interface with easy to use editing tools.
Pros:
It is capable of merging and converting audio files.
Extremely easy to download and install.
Cons:
Hamster also downloads adware/malware during installation.
Other disadvantage is its inability to convert VTS files.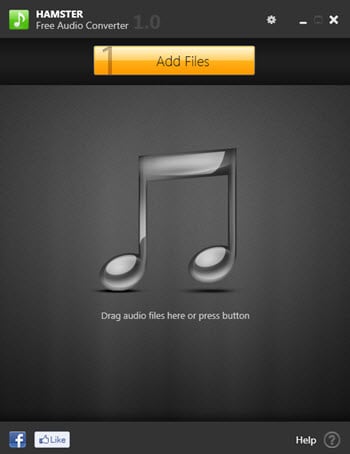 #10. VSDC Free Audio Converter
VSDC Audio Converter has tabbed interface that is uncomplicated to understand and isn't composed of unnecessary buttons.
Pros:
Composed of High conversion quality and speed.
It supports all key audio formats.
Cons:
It requires computer resources at a high level.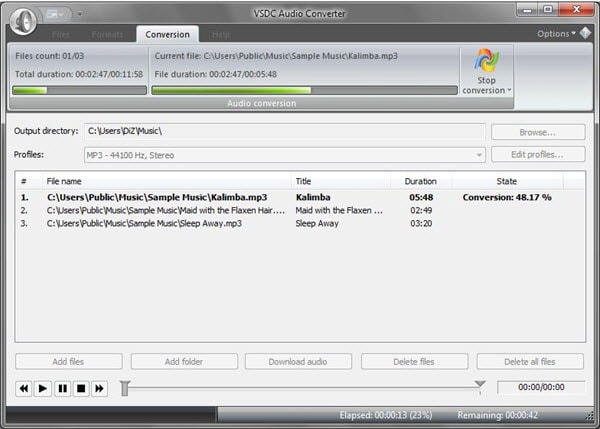 Part 2. FLAC to WAV Converter Free Online
If you don't want to download FLAC to WAV converter, you can try this simple easy to use online tool to convert FLAC files into WAV online for free.
FLAC VS WAV
FLAC stands for free lossless audio codec. It is widely known for compressing the original media file to about 50%-60% without any loss of quality. The range of FLAC is from 3 to 32 bits per sample. WAV refers to waveform audio file format and it is also a lossless audio codec. Both the file formats are compatible with windows, Linux and Macintosh operating systems. They are capable of containing both compressed and uncompressed data, thus making it quite flexible for satisfying various kinds of needs.