Is there a free HEVC converter?
Over the internet, you will get very many free H.265 converter programs. Many factors will help determine the ideal one to use for your files conversion. One of such factors is the type of features a program has. The more they are the better but such features must be the best only. There are programs with many features but most of them are not useful which you should ignore. Also, weigh out the pros and cons of every HEVC converter software program.
Part 1. Free H.265 Video Converter - VLC
VideoLAN is a non-profit organization project and X265 released under the GNU GPL terms is a free software library and application used to encode video streams into H.265/MPEG-H HEVC compression format. To get the latest X265 source code, just type the hg repository # hg clone http://hg.videolan.org/x265. As far as X265 usage is free under GNU GPL, there is an available commercial license from MulticoreWare INC. VLC and HandBrake software uses X265, which apart from bringing a fast and excellent have APIs similar to X264 APIs.
Provides rate control, which includes constant quantizer, constant quality, and optional VBV.
The encoder features adaptive B-frame placement, B-frames as reference, CABAC entropy coding, and weighted predictions for P slices.
It has multiple reference frames.
There is parallel encoding on multiple CPUs.
Scenecut is also available in the encoder.
The encoder supports both full prediction and transforms quad-tree recursion.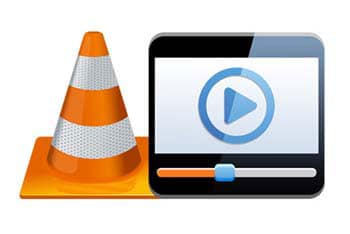 Part 2. Recommend the Best H.265 Video Converter - UniConverter
UniConverter is arguably the most powerful H.265 Video converter tool recognized by millions of users around the globe. If you are looking for the fastest, reliable and easy-to-use tool, then UniConverter should be your obvious tinker tool. The tool has been tested and has not underachieved under all usage conditions. Numerous amazing useful features and capabilities have been incorporated so that any user can find as much solutions as possible within the same tool. This reduces the need for fetching other tools to assist in related tasks and hence does a lot in saving both time and money to the user. UniConverter is a sure bet for both the popular as complex video and audio formats related tasks. Try UniConverter and you shall immediately make it your must have all-in-one application.
Get the Best H.265 Video Converter - UniConverter
Speed- UniConverter has a super-fast conversion speed rated at 90X faster than other common converters.
Wide Range of Formats- It supports any video input even from device directly and converts them to more than 150 different file formats including the hot formats.
Batch Conversion- UniConverter supports conversion of multiple videos and audio at the same time to the same or different formats based on your preference. You can also merge H.265 videos with just 1 click.
Supports Online Conversion- UniConverter allows users to convert online videos including 4K and HD from more than 1000 video sharing sites and save them or share depending on their need.
Easy Editing- With this program, you can customize your video aspects using a built-in video editor. The various editing features including Trim, Crop, Volume, Subtitle, and Watermark among others would help in enhancing the appearance of your H.265 video.
Transfer Videos- This application allow users to directly transfer the converted videos with one simple click to devices like iPhone, iPad, Android phones as well as hard drives using a suitable connection media.
Toolbox- UniConverter has a toolbox that provides users with more features such as GIF Maker, Screen Recorder, VR Converter, and Metadata Info Editor among others.
How to Convert H.265 Videos using UniConverter
Step 1. Launch the program and Upload Files
Run the UniConverter program on your computer to open the main interface. Within the primary menu, navigate and click the "Add Files" button so as to upload the respective H.265 videos to the program. Alternatively, you can choose to drag and drop these very files. Remember you can upload as many files as you like because the tool supports batch conversion.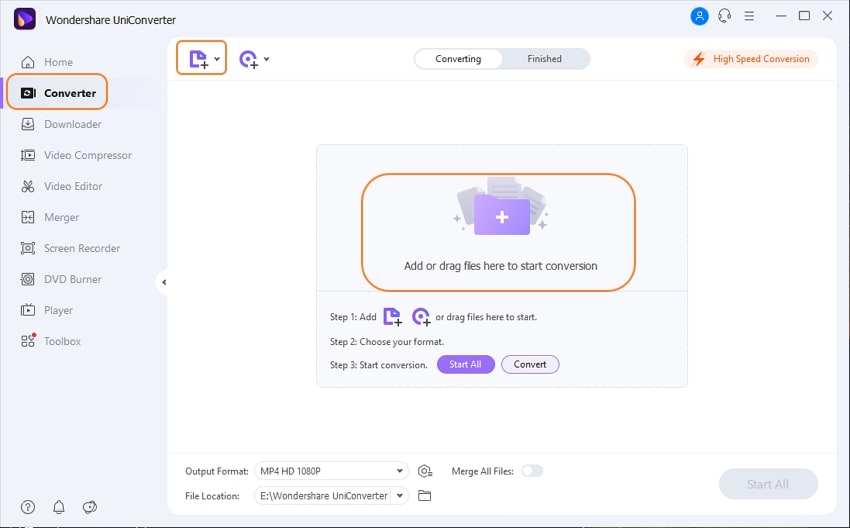 Step 2. Choose the Output Format
Select the output format from either of the "Recently", "Videos", "Audio" and "Device" depending on your requirement. Under these tabs, identify the format of your choice and select it. Once you are satisfied with the choice, select a save path for the output file(s). This is where your newly converted files will be stored.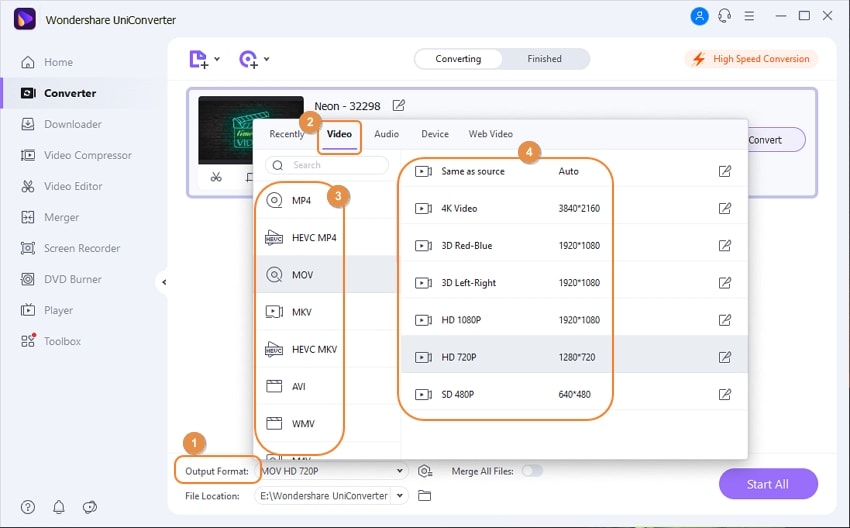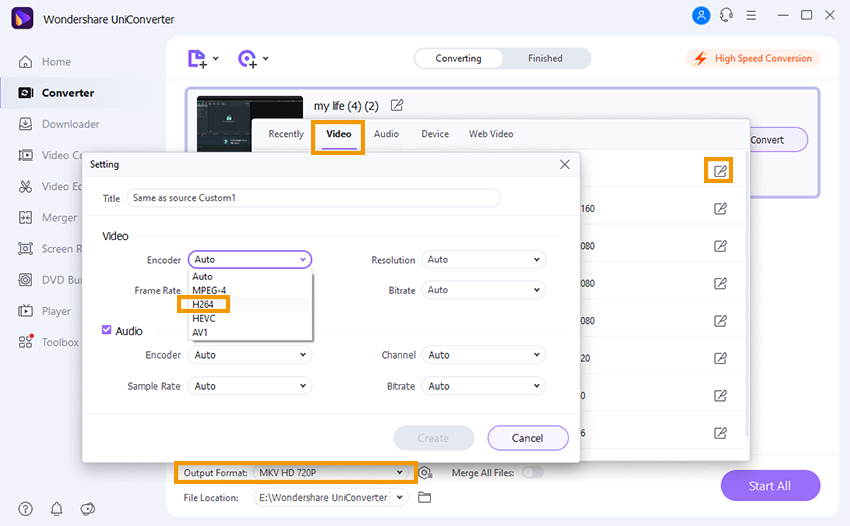 Step 3. Begin the Conversion
Once every relevant aspect is alright, just locate and click the "Convert" tab. The conversion process should commence immediately. You can monitor the conversion progress on the interface. The conversion speed is high but completion time would depend on the size of files. Bigger files take relatively longer than the smaller ones.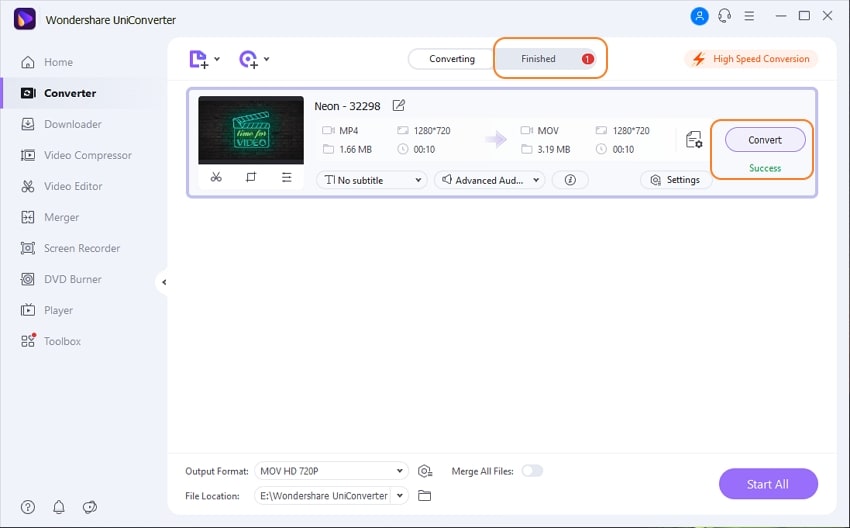 More Tips about H.265 Format Videos
H.265 is a video format in which a video is compressed standard and provides double the data compression ratio at the same level of videos as well as sound quality improving the video quality at the same bitrates. A HEVC video stands for High-Efficiency Video Coding and also known as an H265 format.
What platform or system is H.265 used for?
• Windows Operating System (Above Windows 7)
• iPhone Operating System and Mac
• Android Operating System
What are the differences between H.264 and H.265?
It is shown in the study that the lack of bit is in contrast to the quality of the video image, where H.265 introduced 480p to 52% bit reduction and 64% at 4K Ultra High Definition as compare to H.264. Although they are both outstanding bit reduction formats, H265 returns an obviously better visual quality when compared to a H.264 video with the same file size or bitrates compressed. You can easily find H.265 format videos for iPhone 7 and above devices.
Recommend 3 popular H.265 encoders:
• Brorsoft Video Converter: This software is available for both operating system windows and MAC. It is an all in one type of tool including an encoder, decoder, player, and converter.
• Cinemartin Cinec: This is multi video encoder, which performs as a video converter for windows operating system. It allows you to export to Prores, also allows users to encode to H265 easily.
• FFmpeg: It is used for Linux Users, it might be out of date or it might not have support for the H265 format. you can download it as 32 bit or 64 bit.