HEVC to MP4: How to Convert HEVC to MP4 with Ease
Go to Mac
Go to Windows
High-Efficiency Video Coding or HEVC for short is a new and advanced video compression codec that can perform higher compression than AVC (Advanced Video Coding) which is mostly in use currently.
HEVC in itself is not a particular format but rather a codec also called H.265 that is why you would see HEVC MP4 or HEVC MKV this is at least the two that UniConverter has. In the end, HEVC is a newly improved codec as such not all converter supports this format and not all device supports it so, there is a pressing need to convert it to a universally acceptable format like MP4.
Even though the above explanation sounds complicated, it is nothing at all. Converting HEVC to MP4 is but an easy thing but that is if you are using a good converter. The first on our list will be multi-purpose conversion software UniConverter and followed by three other converters that can achieve HEVC to MP4 conversion easily.
---
Part 1. How to Convert HEVC to MP4 with UniConverter 13
UniConverter is undoubtedly a very powerful converter that can convert to and from a wide variety of formats. It has a lot of supported output and input formats that will leave you surprised. Video formats, Audio formats, Device formats, Web Video formats are all categories made available on the UniConverter software that will help you to accomplish your conversions easily. Apart from this, UniConverter still has a wide range of resources and tools at its disposal. There is the Merger; which allows you to combine video or audio files into one, Downloader which allows you to download files directly from any supported site. There is the Compressor which allows you to reduce and resize videos, there is a trick to reducing audio sizes as well but you'll have to check that out in another one of our posts, then there is the DVD Burner, Player, and the newly improved Toolbox which contains a wide range of other tools that may come in handy.
Steps in Converting HEVC to MP4 in UniConverter 13
Install and Launch UniConverter 13
Download and launch UniConverter 13. UniConverter 13 is the new installment for the Wondershare UniConverter so make sure you get the latest UniConverter 13 as it has a whole lot of new functions and some changes have been implemented to make it better than its previous versions.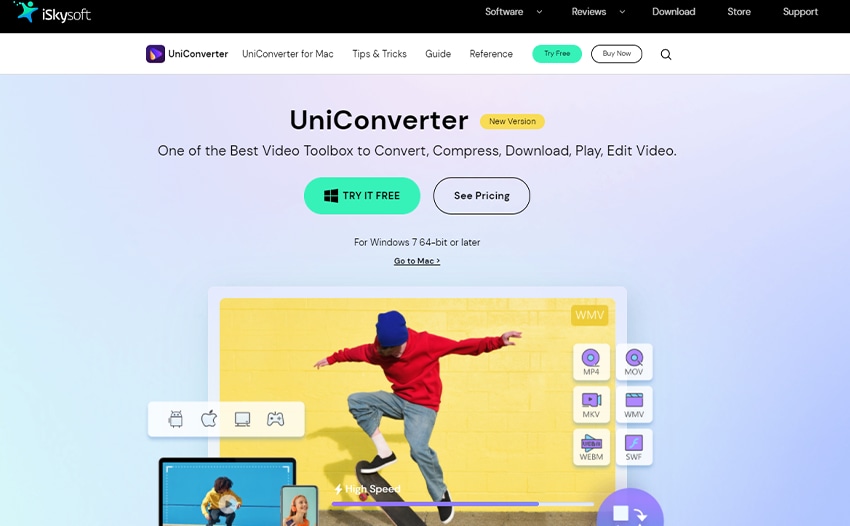 Add File and Choose Format
After installation and launching, the first screen you'll see is the Home screen which displays a group of new tools that has just been added. Check the left of the interface, to access the wide varieties of tools UniConverter has. Click on the Converter tab and the screen changes to the converter screen. To import your file into Uncionverter, click on the add icon at the top left or the big folder with a plus in the middle. UniConverter also has a drag and drop function i.e. dragging files straight out from your Finder or File Explorer is allowed, this works on both Windows and Mac versions. Once the video/videos have been added, you can now select the output format.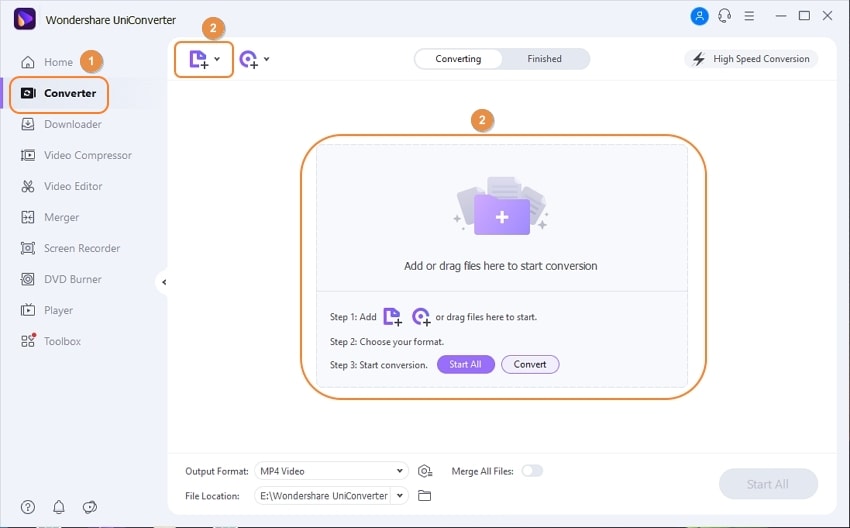 To select the output format, click on the Select Format icon right beside Convert. A list of formats pops up and from there click Video and locate HEVC. Now UniConverter has two versions of HEVC and they are HEVC MKV and HEVC MP4. You can select whichever one you want, their resolution is the same either way so nothing changes except the codecs which may make your video available on some devices and not available on some.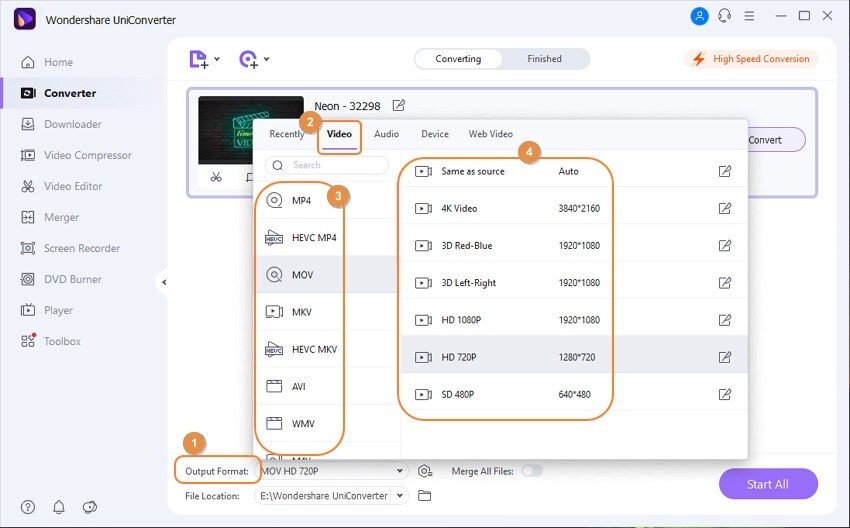 With that done, you can now start conversion, unless you wish to change the destination of your converted file. By default, all converted files are saved to the UniConverter folder in your Local disk but you can change that by clicking on the File location tab at the bottom part of the screen. After all possible settings have been done, you can start conversion by clicking on either Convert or Start All. You can check your output video at the Finished section.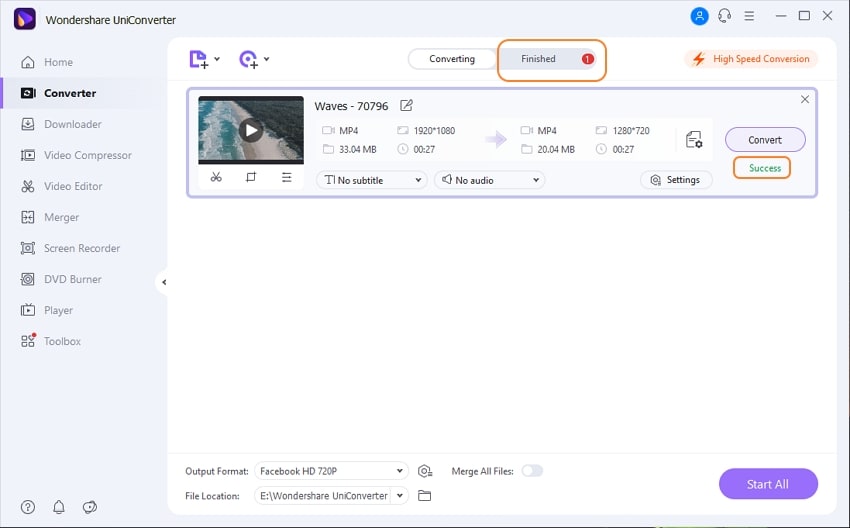 ---
Other Good HEVC to MP4 Converters
VLC-HEVC to MP4 Converter for the Professionals
VLC is a free multimedia player that can play everything from files on your computer to disc drives, stream videos, and webcams, and plays from devices. It supports most codecs whilst not needing a codec pack, it is up, running, and available on all platforms from Android to Windows, Linux, from iPhone to iPad to Mac OS X, Unix all completely free. Even at that, it has no spyware, no ads, and no user tracking.
Run "VLC media player". From the media toolbar, click on Media then Convert/Save. Then click on Add to select the HEVC file you want to upload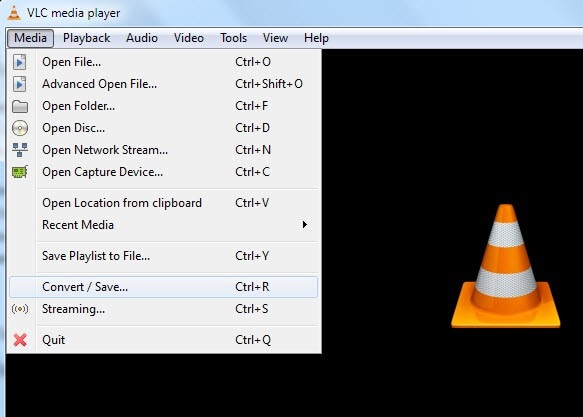 Choose your HEVC file from your file explorer and click Convert/Save, a new box pops up where you set the profile for your video.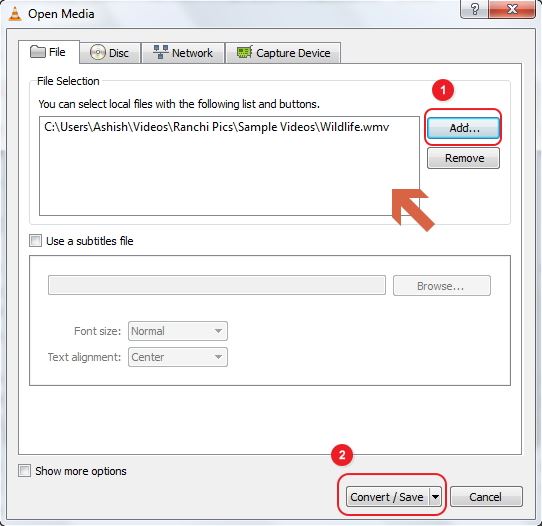 Select Profile: "Video - H.265 + MP3 (MP4)" beside it, click the Edit selected profile icon, the one that looks like a screwdriver. In the "Encapsulation" tab, leave "MP4/MOV" selected, check both "Video" and "Keep original video track" box under selecting "Video codec". Similarly, do the same under "Audio codec", check the box for both "Audio" and "Keep original audio track". Click "Save".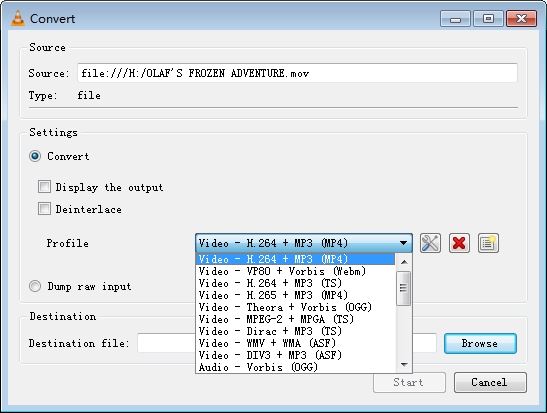 Click Browse to select your video's Save location after conversion. After that, click Start.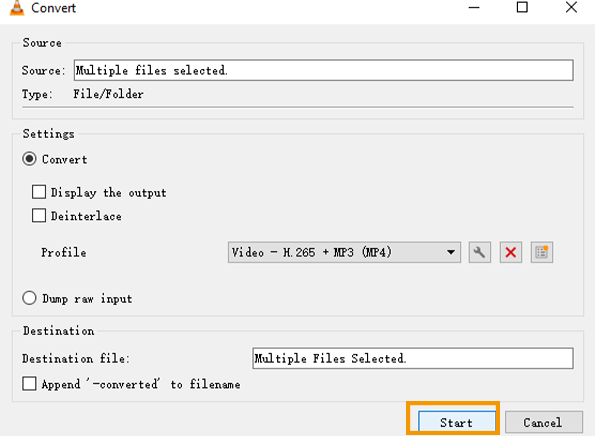 Pros:
It is freeware. You don't pay anything and you enjoy all its functions.
It is multi-functional i.e. mainly a video player and also an audio player. VLC has more other functions.
It is safe. No spyware, no ads when you have your data on, and no tracking.
Cons:
The interface may be not user-friendly. It may be too much for new users except when using its primary function.
It may be hard for new users to use or even get used to. Not everyone knows that VLC has this kind of function because of the tabs scattered all around it.
Since it is open-source and free, sometimes you may suffer a crash and stuck.
VideoProc-HEVC to MP4 Converter for New Users
VideoProc is another one of the multi-purpose converters. Although its toolbox is not that wide or extravagant, it only has four functions: Convert video, Convert DVD, Downloader, and Recorder. It supports more than 300 input formats and 400 output formats including device formats as well. It can convert, compress and edit video with great speed. While VideoProc is not free converting software, it does have a free trial version but as with all free trials, you are restricted from using the full capabilities of the software and while some functions are available, they are limited.
Add your preferred video to VideoProc. Open the software and from the main interface, click "Video", followed by clicking the "+Video" button to import source HEVC Video.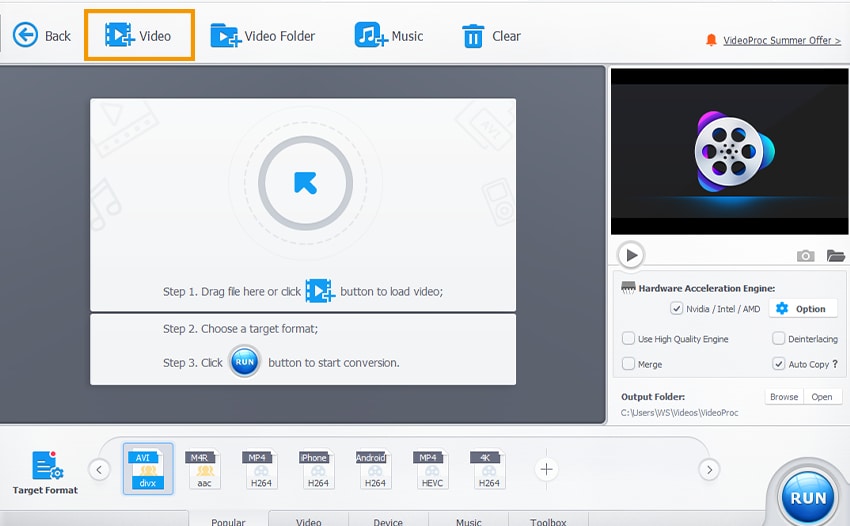 Select the output format. Click on "Target Format" and select the video format that you'd like. Convert H.265 to MP4. Therefore, here click on MP4.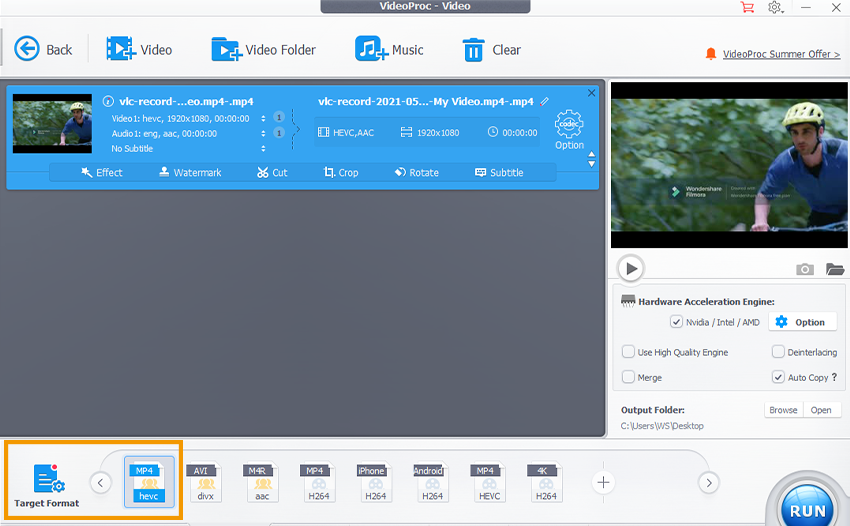 Start the conversion. Hit the "RUN" button to start converting HEVC to MP4.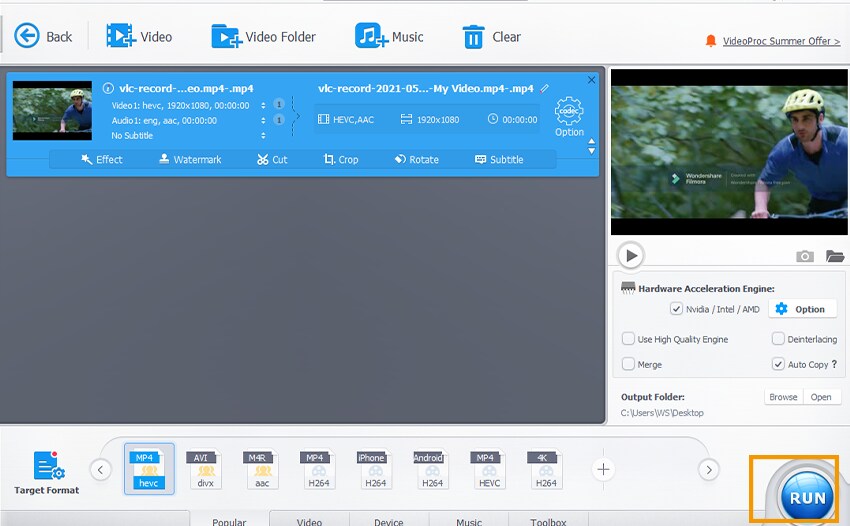 Pros:
It supports many output formats, those formats include video, audio, device formats.
You can also trim and crop video on it.
VideoProc allows the use of some functions for free.
Cons:
There is not high-speed conversion mode available, so the converting speed cannot be ensured.
It is not totally free.
Convertio-Online Converter for Busy People.
Convertio is one of the best converters out there not only limited to online converters here. Its function, tools, and ease of use makes it more than capable of rivaling some of the best online and software converters. Its user-friendly interface and design can easily be navigated by anyone with no prior knowledge. All need to do is upload your file, choose the format and convert; easy! You can convert more than one file with completely different formats at the same time.
Choose the file by clicking on the big red tab that says "Choose file". You can choose to upload from Google Drive or Dropbox as well.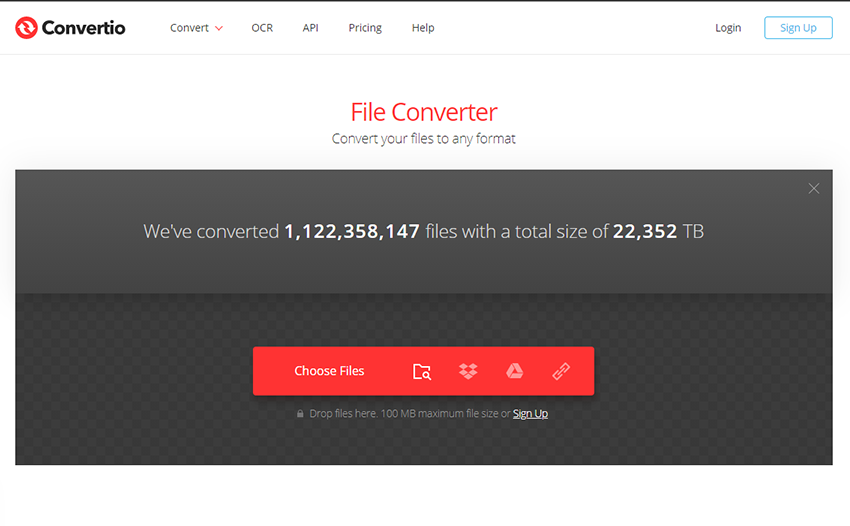 Choose format. Here we will be uploading our HEVC file and their selected output format would be MP4.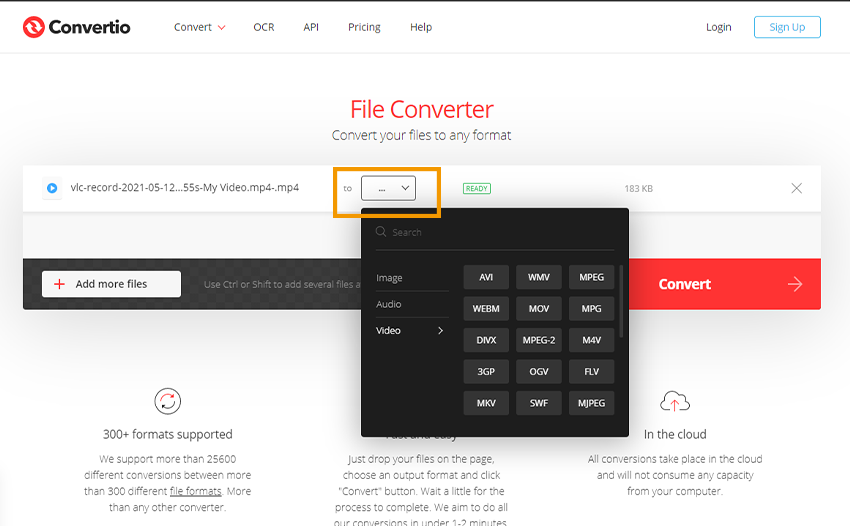 Click the big convert tab to start your conversion.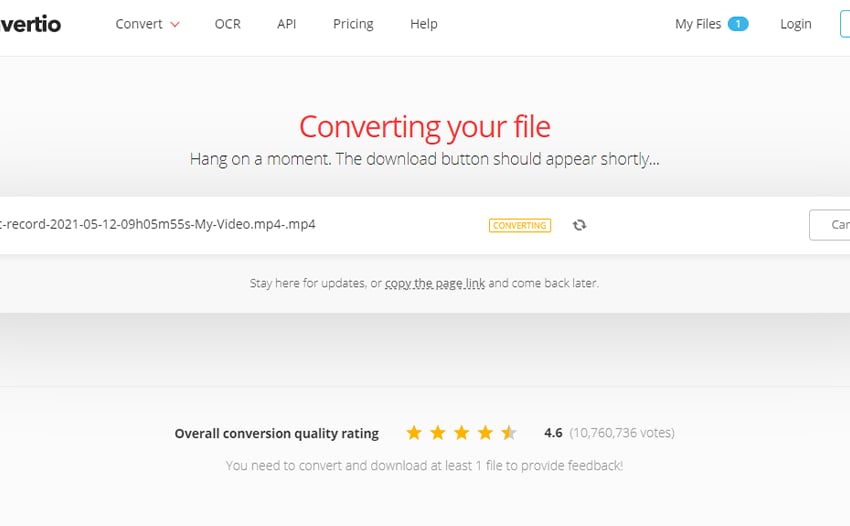 Convertio finished conversion and you download your file on your device. Remember that completing the conversion is not the last step, you will still have to download the file but if you forgot or something else came up, Convertio will save your file for 24 hours before deleting it.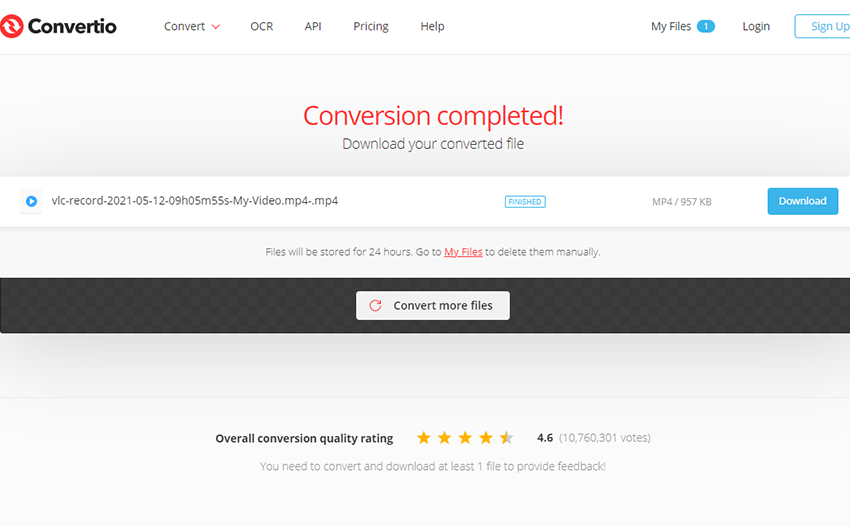 Pros:
It is an online converter, it doesn't need to be installed like a software.
It doesn't take up any space and it is virus-free.
Cons:
You need a stable network.
The conversion speed is average.
---
Q&A
Is UniConverter 13 free?
It is not completely free, but the basic tools are available with the converter's watermark. However, you can enjoy the full function with a reasonable spending. There is something for everyone
Can UniConverter 13 convert other media formats?
Supporting over 1000+ formats, UniConverter can convert videos, images, and audio. UniConverter is the converter you need if you don't want to doubt your converter's capabilities. Convert, compress, merge.. UniConverter has it all.
MP4
1. MP4 Converter

2. Convert MP4 to Audio

3. Convert MP4 to Device